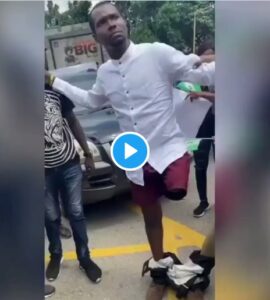 More testaments continue to trickle in from agitated Nigerians on the brutality of some members of the Nigeria Police that has led to the 11-day #EndSARS #EndPoliceBrutality protests.
Sharing his ordeal with protesters, an unidentified man with one artificial leg recounted that he was shot by a police officer two months after his wedding ceremony.
His leg was eventually amputated.
Displaying his amputated leg to the crowd, which was met with wailings, "Police shot me. They cut my leg. Two months after my wedding. I have the pictures."
If you are thinking of giving up on the protest just know it might be you …this is the more reason why we need to keep this trending #EndPoliceBrutalityinNigera #ilorinprotest #tradermoni #tradermoni @UN #EndSARS @davido @aproko_doctor @renoomokri pic.twitter.com/Pp1gaTAfCP

— Martins (@notasowie30) October 18, 2020
The post #EndPoliceBrutalityInNigeria: Police officer shot me two months after my wedding, my leg amputated appeared first on Vanguard News.
Vanguard